T20 cricket has altered the game on its axis, and it's Luke Sutton's job to protect his players
NICK FRIEND: Sutton, a former wicketkeeper for Lancashire, has become a leading sports agent since his retirement. He opens up on the challenges of the franchise circuit, managing the post-playing transition and the unique story of James Taylor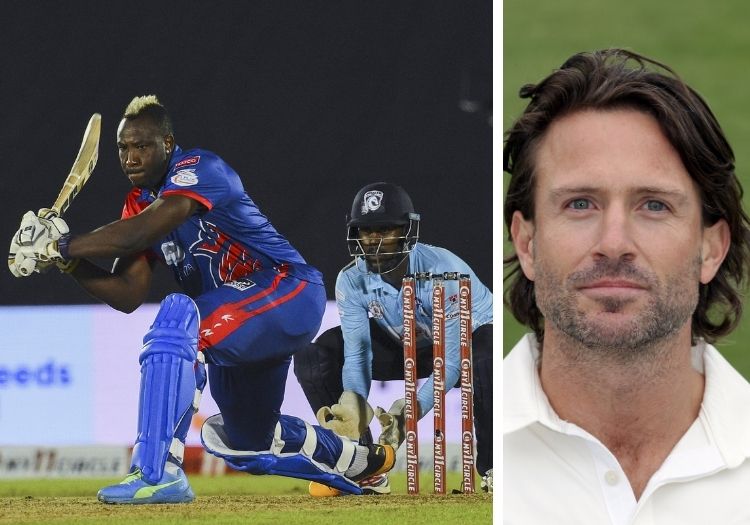 Nick Friend | 14/12/2020 at 09:18
The cricketing landscape has altered beyond reasonable recognition in the years between Luke Sutton's first-class debut in 1997 and the position from which he speaks now.
The franchise circuit, sprouting out of the success of T20 – itself still six years from conception when he arrived on the scene, has opened doors for players to a reality far from the game he once witnessed.
But these days, as a leading agent to athletes across a number of sports, understanding this new world is a major part of the job. Tom Moores, the Nottinghamshire wicketkeeper, is one such client; he is representing Jaffna Stallions in the inaugural Lanka Premier League – the latest fresh competition to land in a volatile market.
When the Abu Dhabi T10 League returns early in 2021 after a delay caused by Covid-19, the annual cycle will begin once again. Yet, there is far more nuance to Sutton's role than simply signing up his men; much consideration and research goes into determining where is best and what is safest.
"It's an interesting landscape, put it that way," he smiles as he explains the challenges at play. "You have to be extremely careful. There are lots of different dynamics: payment of players is one thing, but also how they're going to be looked after when they get there is an important thing.
"For instance, what sort of medical setup is there? What are the facilities like? What's training like? Are you sending a young player off to arrive in a country he's never been to before and no one's there to pick him? You have to be really, really careful. Almost continuously now, there are new competitions popping up all the time."
Not long ago, there was talk of a T20 league in Qatar that never came to fruition, although a T10 competition did take place in 2019. The launch of the Euro Slam was postponed in 2019 and has not re-emerged since.
The Hundred will make its bow next summer, either side of flagship Premier Leagues in India and the Caribbean, with a T20 World Cup following on thereafter. At some stage, there will come a saturation point, but until then the role of the agent is to continue learning and assessing as fresh opportunities spring up across different parts of the globe.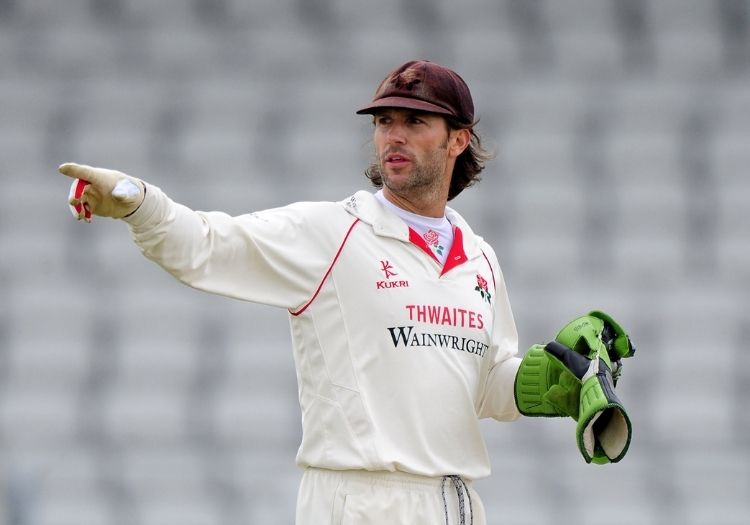 Sutton initially made his name in a decorated playing career with Derbyshire, Lancashire and Somerset
"This has definitely been an evolution for myself in recent years," Sutton adds. "Really understanding that world and trying to get into those conversations as early as possible, so that you can make an assessment about where things are at from an organisational point of view, from a funding point of view, looking after the dangers of match-fixing, things like that. It's really important.
"We hold a great responsibility about that side of things for young players, because it can be very tempting to go: 'Just get yourself to here for this amount of money, get yourself off to there for that amount of money.' Often, the shiny stones or a glamorous tournament with a bit more money can be very appealing for a young player.
"Recently, I had a player who I told: 'Listen, I don't think you should go.' It wasn't actually about the competition, it was about the team, about the franchise – I had some concerns around what was going on. I said: 'Look, I don't think it's a good idea for you to go.' I think that's a responsibility that we've got to take. It's a chaotic, interesting, exciting landscape for young players at the moment, but what comes with all of that are some hidden dangers as well."
Financial issues have plagued several tournaments, even before the coronavirus pandemic took hold. But elsewhere, competitions are maturing with age: the Pakistan Super League, for one, has developed into a tremendously organised machine, while the Lanka Premier League – having chosen the most challenging possible moment for its unveiling – will benefit from merely getting itself off the ground.
"You're looking to make an educated decision – better than a guess – based on all the information that you can get," Sutton says. "It's one thing with tournaments being sanctioned by the ICC and regulated on that level – obviously if they're not, you'd never send a player, but then within that there are subtleties.
"Where did this franchise come from? Who owns it? Where are they funded? What's going on? There are plots and subplots within it: there's the competition itself and how solid it is, and there are the franchises and how solid they are."
Sutton is talking over Zoom, having recently published his second book, The Life of a Sports Agent: The Middleman. At different junctures, it features individual case studies of experiences with James Anderson and James Taylor, Team GB hockey player Sam Quek and Olympic gymnast Nile Wilson – all clients at one point or another of the former Lancashire wicketkeeper. There are sections as well on the social media conundrum and the inner workings of life in his industry.
To a degree, he has written it now as a fightback against the common stereotype that accompanies his line of work. "Everyone gets tarred with the same brush," he says. The first chapter addresses that particular elephant in the room – only this week, football agents Mino Raiola and Kia Joorabchian have made headlines, and he touches, too, on the tendency to treat representatives as easy fall-guys. "We're in the middle of interests," he explains. "But you have to fly the flag high for the way to operate. I think that's really important."
"It's a chaotic, interesting, exciting landscape for young players at the moment, but what comes with all of it are some hidden dangers as well"
As it happens, Sutton never had an agent during his own playing days – a quirk that he believes has helped his own outlook: "I don't think that's done me any harm because I know why I felt so cynical about it." When he began working with Anderson, he was one of only four with interests around the England setup. Now, the PCA website lists more than 40 registered agents.
At heart, though, he's still a sportsman – a scorer of 7,353 first-class runs, and so enjoys watching the excellence of his players – he was in Antigua to watch Anderson break Sir Ian Botham's England wicket record in 2015 and describes Matt Prior – another former client – as "the cricketer that I always wanted to be".
But as he studies their "sporting genius", there a line that his ego cannot be allowed to cross. "When agents get caught into believing that they should be heralded as a big part of when someone achieves sporting success, I think that's dangerous territory," he explains. "Because that means on the bad days, you should also be in the firing line."
As for the special moments, they make it all worthwhile. "You've seen all the backstory, you've seen the injuries that they're hiding, the tensions that they feel, the insecurities that they don't tell other people about. But then you see them deliver in the pressure-cooker of elite sport and I think you have a moment where you're watching that – it's a very private moment – and you're like: 'Wow, this is why I do what I do.'"
The other principal motivation brings him to the subject of Taylor, the former England batsman whose playing career was brought to a tragic, abrupt end by a serious heart condition. Sutton devotes two separate sections of his book to the period, and he holds a unique perspective on a brutally difficult, unusual episode that saw Taylor forced into a sudden, life-changing transition out of the game that had become his raison d'être.
He recalls, for example, how Taylor's health in the aftermath initially meant that he struggled to get through Q&A sessions, while he also describes in significant detail the moment that the devastating news of his condition was confirmed, as well as the subsequent scurry to put statements together to inform all those who needed to know. And then, there is the story of the complex situation that formed around Taylor's insurance claims.
It is a time upon which Sutton looks back with some pride, both in his own response and in Taylor's reinvention ever since – now as a national selector. His is the rarest case imaginable, but it reminds Sutton of why he first entered athlete representation in the first place.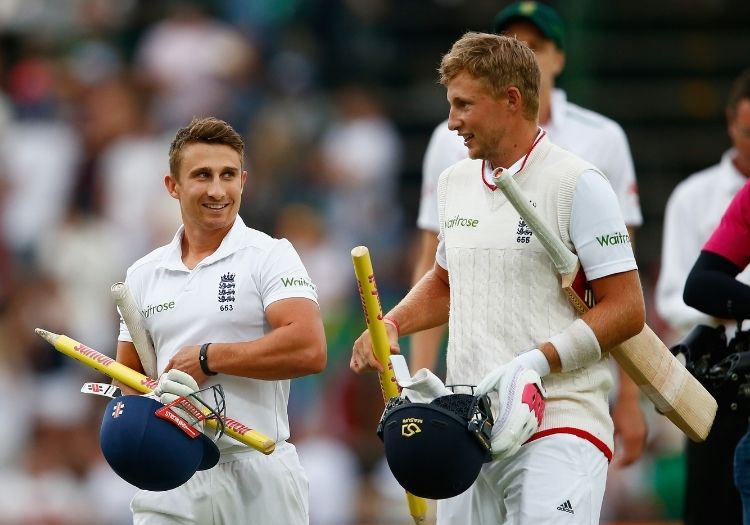 The sudden retirement of James Taylor (left) was a sad time for English cricket
"My perception of management has always been about how to help someone with their life," he says. "It's literally as broad as that, so doing a sponsorship deal is part of that. Giving them some advice on how to handle a situation is part of that. Organising their diary is part of that. But there's something broader to it – it's being able to help them live a sustainable and meaningful life, while playing and beyond.
"I think with James' example, this was a very young man suddenly in a position for his whole family where it was so difficult for them all. I felt like that was real management in many ways.
"Doing a commercial contract can be difficult at times and there are other times where you get involved in arguments or discussions and you think: 'God, why am I doing this?' But then, in moments like with James, you think: 'Oh, I know why I enjoy doing what I'm doing,' because I'm effectively trying to support young people in their sporting life.
"James' case – his transition from cricket into post-cricket – was an extreme example, the most extreme. Literally, on a moment, it was all over. The reason I really wanted to highlight it in a book was that I think it gives an amazing example of how difficult that transition is.
"The world that professional sportspeople live in is not real. It's a different pressure, it's a different reward, it's a different affirmation, it's very different to normal life"
"The reason it's so difficult is that professional sportspeople often feel that they're defined by what they do in sport. That is all they are. That is all they've been conditioned for from a very young age. They get a lot of their self-worth, self-esteem, confidence, purpose, direction, meaning in life from their sport. Expecting otherwise is unrealistic. That's who they are. To suddenly turn that off and then go into post-sport is really difficult and the process is very much around redefining themselves and finding out who they want to be post-retirement.
"The guys who do really well are the ones who redefine themselves, the ones who go: 'Okay, I'm not a player anymore. I'm now at this place in life.' That's really difficult; the guys who hold on to still wanting to be a player and want to get back there, that's a tougher thing for them to go through. That transition is really, really difficult. That's why players need lots of support with it and, sometimes, they really struggle in retirement – not just in cricket. The rates of footballers struggling in retirement are alarming."
He points to Quek as a rare precedent. Part of Team GB's hockey team that won Olympic gold in 2016, she has transcended her sport since retirement. As well as successful stints on I'm a Celebrity… Get Me Out Of Here and Celebrity Masterchef, she has forged a secondary career as a presenter in multiple sports across several channels, while also writing columns in different newspapers.
English cricket's closest parallel is Andrew Flintoff – or Freddie, as he has become so widely known. The great allrounder now hosts Top Gear, as well as holding several other high-profile television roles. It is worth taking a step back to consider his remarkable path; it is difficult to think of an English cricketer – either before or since – who has so successfully navigated the leap from his on-field days to an entirely different, public-facing role.
In January, sports promoter Barry Hearn posed this question while talking to The Cricketer: "If you get the England cricket team walking down Brentwood High Street, how many of them would sign an autograph before they got to the end?"
The answer? Not enough. His point was simple. Of course, the journeys taken by Flintoff and Quek beyond their fields and into the mainstream are not for everyone – rather, their stories are extreme examples of post-retirement reinvention.
"You will get some who don't want that, and they'll be much more comfortable in their own sport," Sutton explains. "Take Steven Gerrard versus David Beckham, or Alastair Cook versus Freddie Flintoff. Regardless of ability levels, they might have different ambitions.
"I think, within my role, it's about having the understanding when you meet someone who has the ambition and ability to break into mainstream; then that's a very significant process. It's a difficult one. I don't think anyone in cricket has done it like Freddie has done it, but it would take a lot of work, a lot of process, a lot of strategy, a lot of understanding of the dynamics that need to work.
"Football is king, and it might even be the whole royal family. As soon as you can realise that football is everything, I think you can work your way from there."
In many ways, Sutton's own experiences have helped him in management. He released his first book a year ago, Back from the Edge: Mental Health and Addiction in Sport, an autobiographical reflection on a journey that reached its nadir in the Priory as he battled alcoholism and issues with his mental health.
And in the cauldron of elite sport, those personal struggles have given him a precious ability to empathise with those following in his footsteps and, as importantly, to recognise when he might need to step in.
England off-spinner Dom Bess is another of his clients; the 23-year-old joined Yorkshire at the end of last season and has spoken openly on numerous occasions in recent times about the difficulties he has faced. Likewise, Wilson, a bronze medallist at the 2016 Olympics in the men's horizontal bar.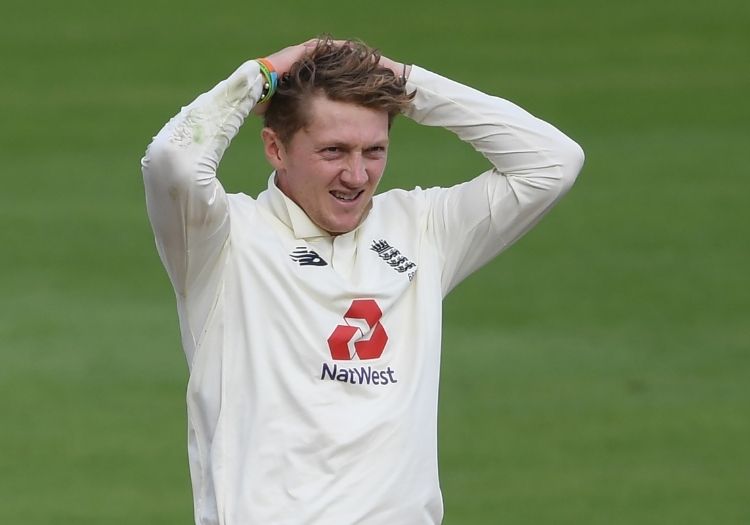 Dom Bess joined Yorkshire from Somerset at the end of the season
"I've been really happy that I have been able to be there for them," Sutton says. "I think it's really important; the world that professional sportspeople live in is not real. It's a different pressure, it's a different reward, it's a different affirmation, it's very different to normal life."
The same can be said of social media: a poisoned chalice with its combination of benefits and pitfalls. Worcestershire seamer Pat Brown told The Cricketer last month how criticism from strangers had left him questioning "what everyone else is thinking of you as well".
For Sutton, embracing it is a must. "Everyone should be on it," he insists, with the significant caveat of learning to "understand" its challenges.
"The first thing is to say that with the power of social media, you can't fight against it. It's not a solution to say to guys: 'Right, don't be on social media.'
"It's one of those territories where it's not real. You can be locked away in your thoughts of how a performance went or what people might think of you. But social media is not a real place to find that affirmation.
"I think in my role, if I find a client is always going there to test out how they should feel about their performance or them as a person, that's the time when I need to step in and say: 'Listen, you need to remember this isn't real. Real people are your family, me, coaches. We can give you that feedback as to where you're at.'"
"Professional sportspeople often feel that they're defined by what they do in sport. They get a lot of their self-worth, self-esteem, confidence, purpose, direction, meaning in life from their sport"
In Bess' case, part of that feedback this year included managing his expectations as a cricketer in the final months of his contract through the height of a pandemic.
In a normal summer, his status as an international cricketer would have given him ample pulling power among clubs interested in his services. The season's prevailing uncertainty made life more complicated, however, even if his situation was ultimately resolved in good time.
But Sutton recalls having to lay out the difficult facts. "There was a lot of uncertainty," he says. "I remember at the start of the summer, saying: 'I don't know how this is going to look. I don't know what financial state the game's going to be in or where clubs are at.' Normally by June, most clubs know what they're looking to do for the following year – whether with their own players or other players.
"This year was different – all of those decisions got moved to late July and August as everyone was trying to work out what sort of budgets they'd have available and what would work. For Dom, it ended up in a really good outcome, but we definitely stepped into that process, thinking: 'I'm not quite sure what this process is going to look like.'"
And in a business of constant evolution, that's the game.