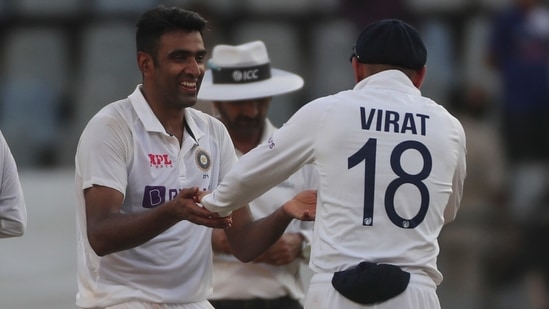 When India's ace spinner allured the New Zeland's well settled batter Henry Nicholls with a flighted delivery, who hitherto showed his composure, tentatively charged down to this delivery, only deceived by the flight and India's diminutive wicket keeper collected the ball in a flash and effected a lightning stumping and the stranded Nicholls walked back to the pavilion and Indian players celebrated the Test win at Wankhade stadium, Mumbai yesterday on the 4th day morning and it was also a series win for India by 1-0. And Indians kept their record of not losing a Test series against Kiwis in India and the Kiwis elusive test series win in India continues..
The Kiwis batters had no clue to the guiles of Indian spinners on a helping track. India's spin trio attack spearheaded by Ravichandran Ashwin , who claimed 8 wickets in this Test and was ably supported by the Axar and Jayant Yadav, who was a last minute inclusion. They were skittled out for 62 & 167 runs in this Test handing India their heaviest margin of victory in terms of runs by 372 runs. And ironically it was also Kiwis worst defeat in Tests.
The Kiwis escaped from the jaws of defeat at Kanpur by the dour fighting by the last wicket pair on an unhelping pitch couldn't repeat the same feat at Wankhede. The red soil pitch which offered some bounce and turn was too much for the New Zealand batters though their bowling hero, Ajaz Patel's 14 wickets haul, an outstanding bowling effort including the all time record of 10 wickets in the first innings had no impact on Indian batting line-up.
The batting hero, India's opener, Mayank's Century in the first innings ( 150 runs) and well supported by Gill and Axar Patel in the first innings set up a good total of 325 and the Kiwis spineless batting unit collapsed to 62 runs, their lowest score in the recent past. Then India went on to set an improbable target of 540 runs thanks to a brilliant half century by Mayank Agarwa ( who was awarded MOM award for his batting effort ) l and useful contributions from Gill and Pujara in the second innings.
Then it was the turn of the Indian spinners to pick up wickets at regular intervals and there was some semblance of fight by Kiwis batters in the second essay with D. Mitchell ( who was included in place of their injured skipper Kane Williamson) and Henry Nicholls .
Statistical delights
India inflicted a massive defeat to the Kiwis by 372 runs. This is India's record of biggest victory in terms of runs
New Zeland's Left arm spinner, Ajaz Patyel's 10 wickets in India's first innings is a record for their country
Ashwin has achieved 300 wickets in home pitches and his scalp of 8 wickets in this Test also saw him getting the PLAYER OF THE SERIES award for the 9th time and his 66 wickets Versus New Zealand is also highest in Tests.
Ashwin also achieved another record of 50+ wickets ( 52) in a calender year (2021) for the 4th time. Previously he claimed 50 wickets in 2015, 2016, 2017 & 2021.